About
Emmie is a mixed media artist whose inspiration comes from journeys, mystical tales and the eclectic architecture she has encountered. These may be the crumbling beauty of Cuban buildings, the sensory kaleidoscope of India or the time echoing features of Istanbul. Her work often examines the transitory nature of buildings from their planning and construction to their ruins and its structure revealed. Magical realism is an integral part of Emmie's art, which may start out based on one place but ends as a coalescence of memories from the past, sights of the present and thoughts of the future… Read more
Journeys
Below are some short accounts of the journeys that have been of particular inspiration to Emmie's work over the years.
Havana, Cuba

Some of Emmie's earliest work was inspired by Cuba, where time and the elements have not only revealed the building's inner structure but also unearthed colours and details from past generations. Read More…

Ladakh, India

An account of documenting travels into a remote valley in the Himalayas by a treacherous semi frozen river gorge to a spectacular enclave of Tibetan people, buildings and monasteries. Read More…

Cappadocia, Turkey

This work is based on the impressions of the changing architecture, culture and colours of an overland train journey from England, through Eastern Europe to an area of caves and bizarre rock formations in Cappadocia, central Turkey. Read More…
Norway

The collection of work is based on some of the sights and experiences of creating work and living at sea for four months and returning 3500 miles later to tell the tale.
Read More…

Sailing South

We left Plymouth harbour at the end of March with the looming threat of snow and headed in rough and cold seas, fast South at the mercy of the winds.
Read More…

Coming Soon!
Download all journeys as PDF
Download
Latest Project- Intertwined Layers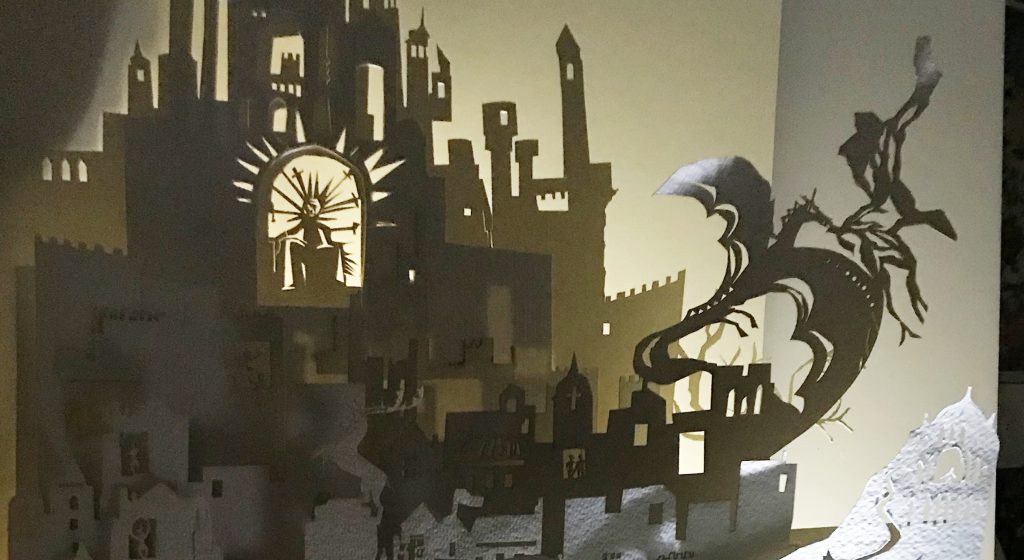 Approached by HBO to create a piece for a Game of Thrones Gallery exhibition in East London due to the air of magical realism and colours in Emmie's work a multilayered cityscape piece was developed. Intricate Limited edition pieces of the original are now available to find out more click here.
News
19th March 2020 by

emmie

in

All

Corona Virus has bought chaos to many thing but of course all events are now off. This has bought the artmarket to a virtual standstill. However, it does give the chance for creatives to breath, experiment and create. Oxford artworks which has for many years been a very social event where artists welcome hundreds of people to their studios has now been cancelled but it has now been moved 'online'. There is nothing like seeing a piece for real, th

Read more»

19th March 2020 by

emmie

in

All

Quantum Contemporary Art showed (and sold) Emmie's work at Battersea Art Fair last weekend as well as a number of other artists. The mood was understandably quiet and probably a little surreal but the gallery did reasonably well given circumstances. In the photo is 'London Light' Mixed media 40x60cm and the golden layered piece 'Camel Nights' approx 40x80cm.

Read more»

19th February 2020 by

emmie

in

All

Emmie's work 'Street life Havana' have been featured on the front cover of 'Cadere' by a Cuban writer 'Carlos Manuel Alvarez' named in Mexico as one of Latin Americas 20 best writers. It is about the trials and tribulations of Cuban life, the book is hot off the press by an Italian publication 'Sur'. The picture was sketched and painted while in Havana a couple of years ago on a research trip. Due to the heat a 6am start was always mad

Read more»

13th January 2020 by

emmie

in

All

2020  I hope the year has started well for you. After a year on route at the mercy of the wind off Western Africa I'm now back in the studio and underway for this years selection of exhibitions which will be taking place later this year. The schedule is still to be confirmed but will be taking place closer to home than most years and will be likely to be taking place in Oxford, London, Brighton and maybe York. Please stay tuned for

Read more»
Contact
Available for commissions
©2019 Emmie van Biervliet.Unauthorised reproduction strictly prohibited.