About
Emmie is a mixed media artist whose inspiration comes from journeys, mystical tales and the eclectic architecture she has encountered. These may be the crumbling beauty of Cuban buildings, the sensory kaleidoscope of India or the time echoing features of Istanbul. Her work often examines the transitory nature of buildings from their planning and construction to their ruins and its structure revealed. Magical realism is an integral part of Emmie's art, which may start out based on one place but ends as a coalescence of memories from the past, sights of the present and thoughts of the future… Read more
Journeys
Below are some short accounts of the journeys that have been of particular inspiration to Emmie's work over the years.
Havana, Cuba

Some of Emmie's earliest work was inspired by Cuba, where time and the elements have not only revealed the building's inner structure but also unearthed colours and details from past generations. Read More…

Ladakh, India

An account of documenting travels into a remote valley in the Himalayas by a treacherous semi frozen river gorge to a spectacular enclave of Tibetan people, buildings and monasteries. Read More…

Cappadocia, Turkey

This work is based on the impressions of the changing architecture, culture and colours of an overland train journey from England, through Eastern Europe to an area of caves and bizarre rock formations in Cappadocia, central Turkey. Read More…
Norway

The collection of work is based on some of the sights and experiences of creating work and living at sea for four months and returning 3500 miles later to tell the tale.
Read More…

Sailing South

We left Plymouth harbour at the end of March with the looming threat of snow and headed in rough and cold seas, fast South at the mercy of the winds.
Read More…

Coming Soon!
Download all journeys as PDF
Download
Latest Project- Intertwined Layers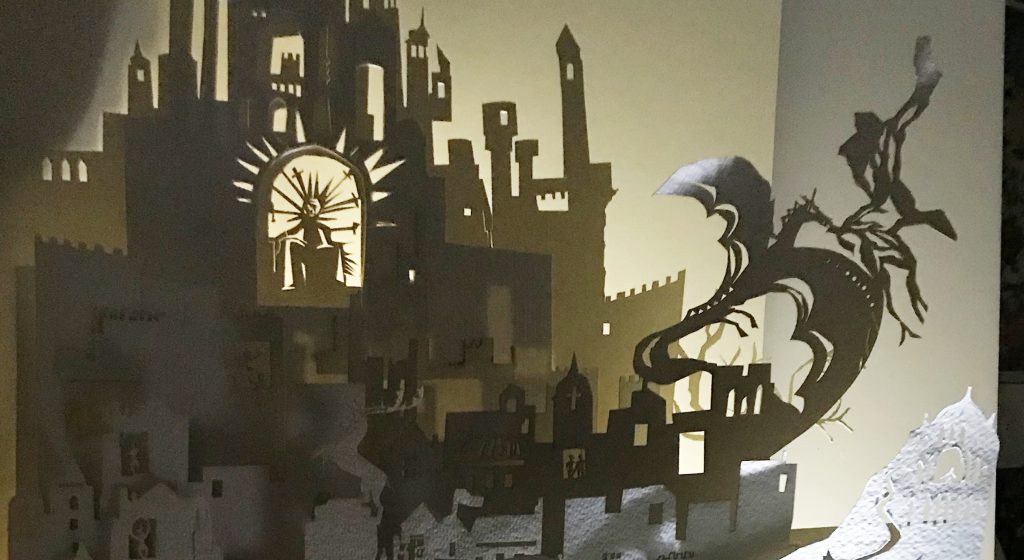 Approached by HBO to create a piece for a Game of Thrones Gallery exhibition in East London due to the air of magical realism and colours in Emmie's work a multilayered cityscape piece was developed. Intricate Limited edition pieces of the original are now available to find out more click here.
News
13th January 2020 by

emmie

in

All

2020  I hope the year has started well for you. After a year on route at the mercy of the wind off Western Africa I'm now back in the studio and underway for this years selection of exhibitions which will be taking place later this year. The schedule is still to be confirmed but will be taking place closer to home than most years and will be likely to be taking place in Oxford, London, Brighton and maybe York. Please stay tuned for

Read more»

28th August 2019 by

emmie

in

Available

,

Europe

,

Exhibits / Press

After a long hot summer of searching for swimming holes in between work the latest pieces reflect the warm hues and village scenes of the South of France. Eclectic architecture stacks up against the hilltops, people meander in and out of the labyrinth of their steep streets. These pieces are mixed media using local newspapers, coffee and acrylic on board with a hint of gold leaf! Please contact me for more information about these pieces and w

Read more»

10th July 2019 by

emmie

in

Eastern

Work in progress from my last commission, inspired by the intricate details of Islamic architecture in Samarkand and Bukhara in Central Asia. A quirky amalgamation of towns and stories layered together with a special story woven into the pages.

Read more»

3rd April 2019 by

emmie

in

All

Approached by HBO to create a piece for a Game of Thrones Gallery exhibition in East London due to the air of magical realism and colours in Emmie's work. The piece is in the form of a large sculptural book with a wooden front cover 60 high x35cm wide and combines a number of intricately layered pages representing different scenes from the Game of Thrones which are both separate and intertwined. The piece aims to represent the air of intri

Read more»
Contact
Available for commissions
©2019 Emmie van Biervliet.Unauthorised reproduction strictly prohibited.